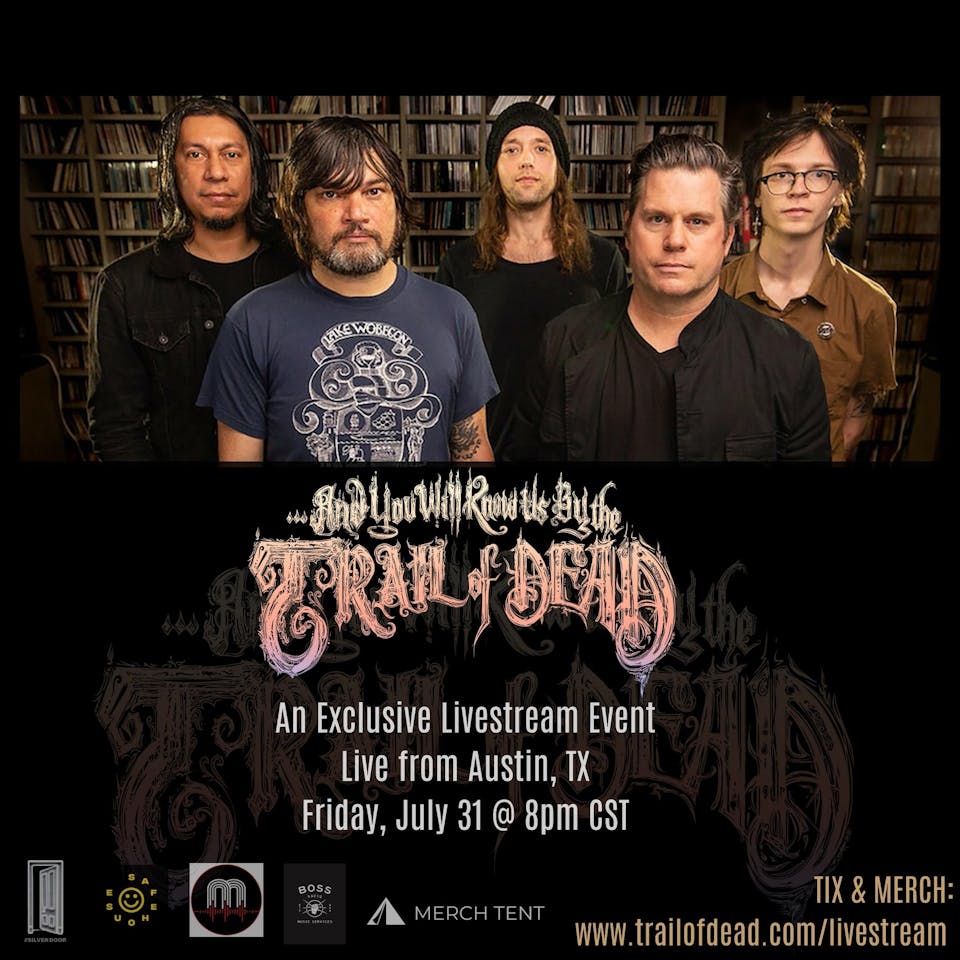 ...And You Will Know Us by the Trail of Dead
$0.00
Sales Ended
On Trail of Dead
...And You Will Know Us By the Trail of Dead
In support of independent music venues & promoters, Trail of Dead offer their unique vision on livestreaming with a performance live from Austin on Friday, July 31st at 8pm CST, 9pm EST.
Purchase your ticket and exclusive Merch here: www.trailofdead.com/livestream
ABOUT TRAIL OF DEAD:
Six years on from the release of their previous record, Austin's art-rock punk 'mothertruckers' …And You Will Know Us by the Trail Of Dead return with their tenth album – X: The Godless Void and Other Stories – set for release on January 17, 2020 via Superball Music in Europe and Dine Alone Records in North America.
Work on X: The Godless Void and Other Stories began in earnest in 2018, after Keely returned to the band's hometown of Austin following five years in Cambodia. That also marked a return to action for Trail Of Dead, with previous album IX having dropped in 2014 – in that time, fellow founding member Jason Reece put time into other musical projects back in Texas while Keely released his solo record Original Machines (2016) and continued to spend time on his illustration work, as well as his long-gestating science fantasy novel Strange News From Another Planet.
As a result, the album sees Keely detailing "the sadness of moving away from a place that I'd loved," while also taking inspiration from Steven Pressfield's book The War Of Art to face his own demons regarding the creative process. "I feel like I'm writing pop music," he says, "it's just not Top 20 pop. It's the pop music I wish was on the radio, the pop music I would've grown up with."
Reece agrees, citing Talk Talk, Killing Joke and Laurie Anderson as inspirations. "There's definitely the idea of loss, leaving someone or something important in your life, but it's more abstract," he explains, adding that the track "Into The Godless Void" in particular deals with "this existential woe that all humans tend to go through – feeling that weight that plagues the mind."
Keely's novel-in-progress also has a part to play, with some songs inspired by episodes in the book. Its stories echo across the band's albums dating back to Tao Of The Dead. It's a fantasy world his lyrics continuously return to, and a guarded secret that fans will have to wait for in order to see how both lyrics and artwork play into his grand scheme.
Venue Information: