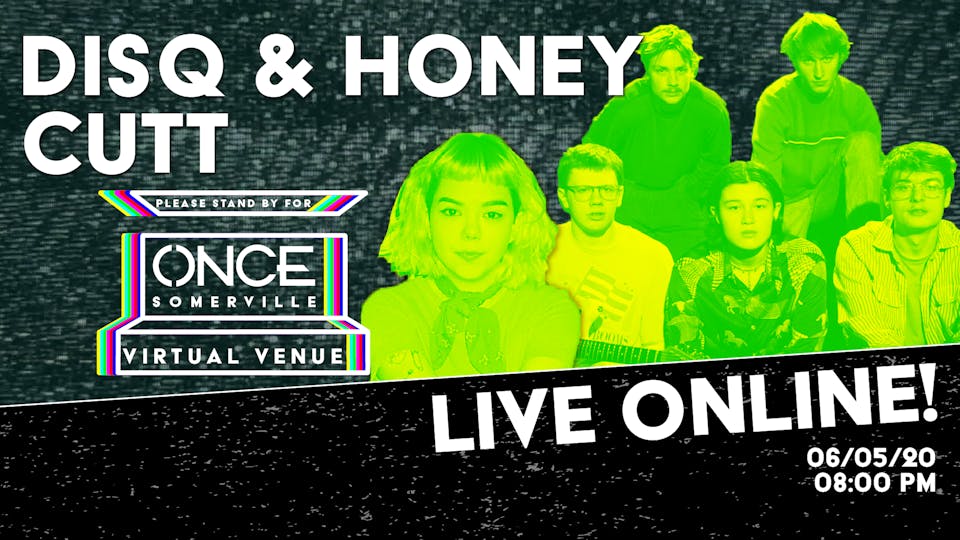 Disq + Honey Cutt x ONCE VV
Honey Cutt
Disq + Honey Cutt x ONCE VV
DISQ
Disq have assembled a razor-sharp, teetering-on-the-edge-of-chaos melange of sounds, experiences, memories, and influences. Due out March 6 on Saddle Creek, Collector ought to be taken literally—it is a place to explore and catalogue the Madison, Wisconsin band's relationships to themselves, their pasts, and the world beyond the American Midwest as they careen from their teens into their 20s. This turbulence is backdropped by gnarled power pop, anxious post-punk, warm psych-folk, and hectic, formless, tongue-in-cheek indie rock.
Collector, like the band itself, is defined and tightly-contoured by the ties between the five members. Raina Bock (bass/vocals) and Isaac deBroux-Slone (guitar/vocals) have known each other from infancy, growing up and into music together. Through gigging around Madison, they met and befriended Shannon Connor (guitar/keys/vocals), Logan Severson (guitar/vocals), and Brendan Manley (drums)—three equally dedicated and adventurous musicians committed to coaxing genre boundaries.
Produced by Rob Schnapf, Collector is a set of songs largely pulled from each of the five members' demo piles over the years. They're organic representations of each moment in time, gathered together to tell a mixtape-story of growing up in 21st century America. The songs are marked by urgency, introspection, tongue-in-cheek nihilism, and a shrewd understanding of pop and rock structures and their corollaries—as well as a keen desire to dialogue with and upset them.
https://www.thisisdisq.com/
https://open.spotify.com/artist/5EmT8U3SucK9KYXbVEdu5K
HONEY CUTT
Dreamy indie surf rock tunes of song writer Kaley Honeycutt
https://open.spotify.com/artist/5v4u4iPkDu5urrAuFTlihR
In order to access this livestream please RSVP for tickets via Eventbrite. A link to the livestream will then be emailed to you once you have completed the registration, 1 day before and 30 minutes before the event begins just for good measure!
About ONCE Virtual Venue:
In May of 2020 ONCE Somerville, an independent venue in the Boston Metro area, decided to launch a "virtual venue". The venue was started in response to the COVID19 crisis and the massive amount of cancellations that occurred in the wake of stay at home order. ONCE VV is a place for audiences to interact and enjoy performances that range to suit all sorts of palates. Music, tutorials, fitness, games and more.
"We call ourselves independent, but what we are is interdependent. Performance is art. Art soothes and nurtures us. It makes us happy." ONCE VV will work hard to add a warmth and hospitality to the livestream by evoking the hominess and cozy hospitality they are known for and will continue to keep the ONCE name tied to diverse and quality programming as they frontier the wild west of an online "virtual venue".
All for ONCE and ONCE for ALL!
DONATE TO ONCE GOFUNDME CAMPAIGN: https://bit.ly/2y5BeJP
Venue Information: