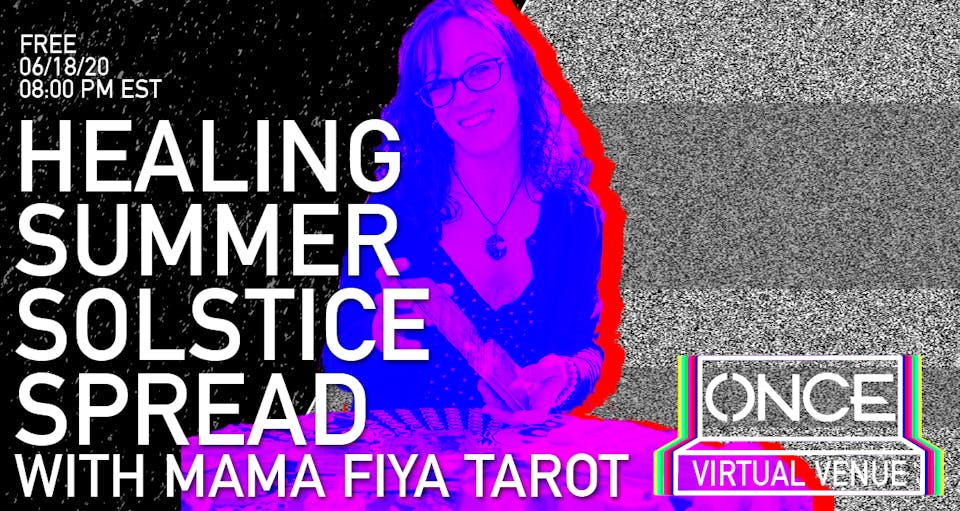 Healing Summer Solstice Spread by Mama Fiya Tarot x ONCE VV
Healing Summer Solstice Spread by Mama Fiya Tarot x ONCE VV
In order to access this livestream please RSVP for tickets via Eventbrite. A link to the livestream will then be emailed to you once you have completed the registration. In order to access the live stream click the "view now" button in the confirmation email and follow the instructions listed on that page
ABOUT THE EVENT:
Melissa will be offering a full tarot spread on the summer solstice and what the collective can expect for the upcoming summer season. She also hopes to include healing information on how to help with the effects quarantine has had on the entertainment community. Healing and positivity and empowerment are a certainty but you'll have to tune in to see because the reading can go various places depending on the cards! Guaranteed good time we know that!
ABOUT MELISSA
Melissa Vieira is a professional tarot reader for major American hotlines along with her own loyal following of weekly personal clients and is the host of the YouTube channel mama fiya tarot. She's been practicing tarot for over 20 years and has given thousands of personal readings. She's a regular at the Once Buzz Markets and formerly reader for Teller in Stoneham before the outbreak. Currently she reads out of her home in Wakefield where she lives with her daughter and cats. She is a huge believer in crystal healing and the metaphysical arts. She is also building her name as not only a tarot reader but also a psychic medium. She connects with her clients over regular phone, FaceTime, Zoom or Skype. To book with her you can email mamafiyatarot@gmail.com Melissa is also a published author and you can find her work at
https://channillo.com/series/lily-s-second-chance/
About ONCE Virtual Venue:
"We call ourselves independent, but what we are is interdependent. Performance is art. Art soothes and nurtures us. It makes us happy." ONCE VV will work hard to add a warmth and hospitality to the livestream by evoking the hominess and cozy hospitality they are known for and will continue to keep the ONCE name tied to diverse and quality programming as they frontier the wild west of an online "virtual venue".
All for ONCE and ONCE for ALL! https://bit.ly/SUPPORTONCE
Venue Information: