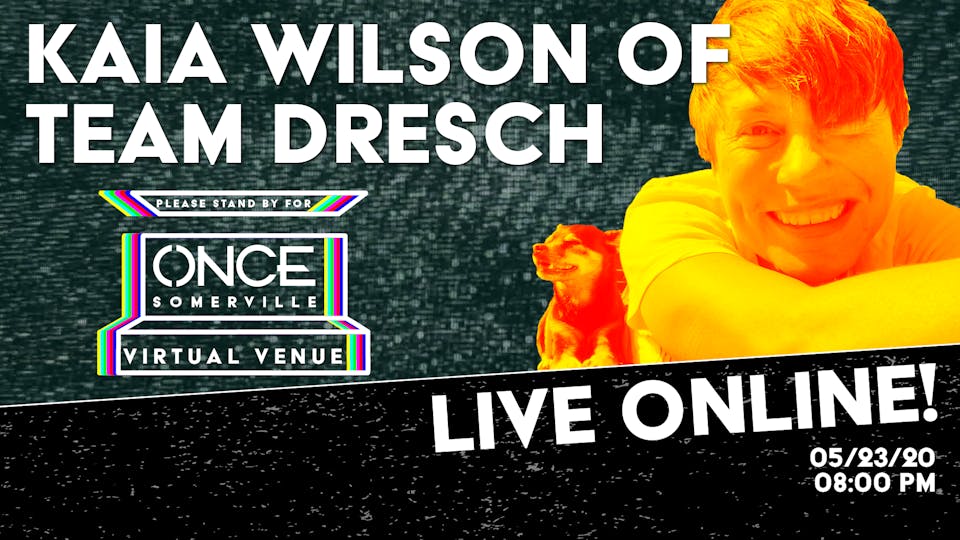 Kaia Wilson of Team Dresch x ONCE VV
Kaia Wilson of Team Dresch x ONCE VV
In order to access this livestream please RSVP for tickets via Eventbrite. A link to the livestream will then be emailed to you once you have completed the registration. In order to access the live stream click the "view now" button in the confirmation email and follow the instructions listed on that page
Kaia Wilson is a musician, dog friend, ping pong-er, gay, ex professional wind surfer, person-highly-concerned with the state of our planet and all its inhabitants, and who's recently been forced to drink Teecino in an effort to reduce her coffee intake to quell this state of concern. Kaia Wilson is definitely probably writing her own bio. At this time there is a global pandemic and most of us are stuck in our houses, except for the folks working essential jobs, thank you thank you thank you!
Wilson was in her first band, Adickdid, from 1991-1993 (fun fact, Beck once opened for Adickdid (and Spinanes) at Jabberjaw in Los Angeles in 92), Adickdid had one radio hit with their song "Columbus". After Adickdid Wilson went on to help form the band Team Dresch in 1993, who are still at it, gosh-darn it; TD released new music, re-released their entire back catalog and toured the US summer/fall of 2019. Kaia was also in the Durham, NC based band, The Butchies, from 1998-2005, who once did, funny you should ask, open for Cheap Trick in Myrtle Beach South Carolina. From 1996-2002 Wilson co-ran the feminist record/video distributing label, Mr. Lady, with Tammy Rae Carland. Kaia's solo ventures began in 1983, when she penned her first song, "You make me Cry that Special Way" and she's kept writing and releasing solo music since. You can find all of Kaia's (bands) music and merch via the amazing record label, Jealous Butcher Records jealousbutcher.com, and through https://kaia.bandcamp.com.
In 2010 Kaia competed in table tennis at the Gay Games in Cologne Germany and won a GAY GOLD y'all, in doubles, with her wild card draw partner, Joyce.
For the past 6 years Wilson has studied dog training, worked at a dog daycare and mentored with established trainers in a pursuit to become certified, but changed her mind short of her certification deciding to instead walk and run dogs, starting her own business in Portland Oregon, called Dogspeed. For fun (nerd) she practices agility with her 2 dogs, and has taken up some amateur dog dancing (totally not nerd) with Pocket her border collie, as well as teaching him to Skateboard, which she herself certainly cannot do.
Having become unemployed due to Covid 19, Kaia took up sketching, and decided to launch a "clothing line" (Wilson's Sharp Shirts), as well as releasing new solo music in attempts to procure an income. She's been splitting her time between staying in her Portland home and an Airstream trailer on her parents land, getting intimate with slugs and potato bugs much like she did as a small child.
She is very lucky, she says, very very fucking lucky and grateful.
Kaia recently celebrated her 34th birthday.
About ONCE Virtual Venue:
In May of 2020 ONCE Somerville, an independent venue in the Boston Metro area, decided to launch a "virtual venue". The venue was started in response to the COVID19 crisis and the massive amount of cancellations that occurred in the wake of stay at home order. ONCE VV is a place for audiences to interact and enjoy performances that range to suit all sorts of palates. Music, tutorials, fitness, games and more.
"We call ourselves independent, but what we are is interdependent. Performance is art. Art soothes and nurtures us. It makes us happy." ONCE VV will work hard to add a warmth and hospitality to the livestream by evoking the hominess and cozy hospitality they are known for and will continue to keep the ONCE name tied to diverse and quality programming as they frontier the wild west of an online "virtual venue".
All for ONCE and ONCE for ALL!
DONATE TO ONCE GOFUNDME CAMPAIGN: https://bit.ly/2y5BeJP
Venue Information: