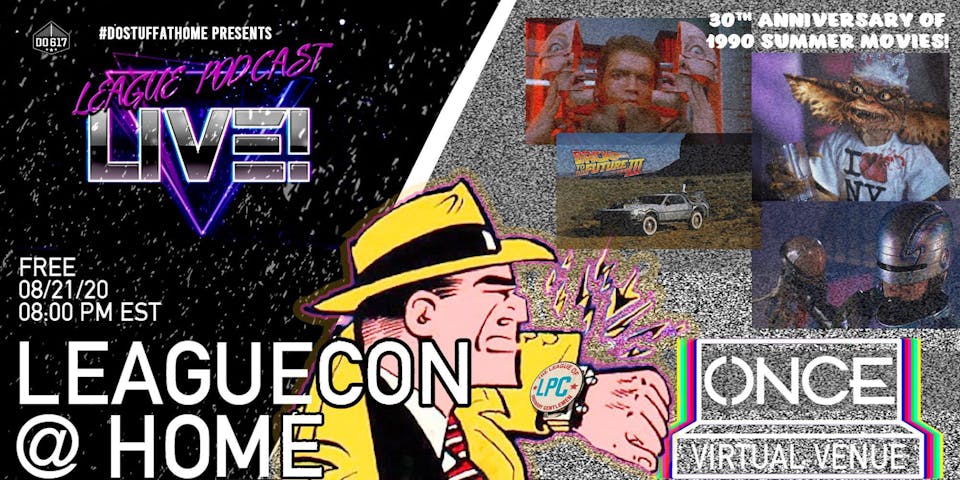 LeagueCon @ Home x ONCE VV
In order to access this livestream please RSVP for tickets via Eventbrite. A link to the livestream will then be emailed to you once you have completed the registration. In order to access the live stream click the "View Now" button in the confirmation email and follow the instructions listed on that page.
LeaguePodcast and Do617 Present:
LeagueCon @ Home - LeaguePodcast Live! Virtual Comic Convention
LeaguePodcast and Special Guests
While we can't do our usual post-convention show, we wanted to invite you to the first-ever live-streamed LeaguePodcast, bringing the comic book convention to your home!
DoStuffAtHome with LeaguePodcast, benefitting ONCE Somerville on Friday, August 21st at 8pm at ONCE VV.
Join LeaguePodcast Live! at ONCE VV for comic book, tv, and pop culture news plus a special live League Toy Box with guests from the LeaguePodcast network! Tune in live and join the chat for Birthday Comic Book Trivia (all you need is a birthday to play along!) and introducing "League Vs. The Summer of 1990" featuring all of your favorite movies celebrating 30 years this year like Back to the Future III, Dick Tracy and so many more.
We hope you'll Watch-A-Long with us!
About LeaguePodcast:
Recently, LeaguePodcast has celebrated 400 episodes with a Spider-Man (2002) Facebook Live Watch Party, Star Trek movie commentaries, podcast explainers for Godzilla, Men in Black, Firefly/Serenity and so much more! Subscribe wherever you get your podcasts for the great content you love, like comic book interviews with Deadpool creator Rob Liefeld, Classic comic book episodes and radio dramatizations of classic issues called "Oddio" comics!
Find League Podcast:
About ONCE Virtual Venue:
"We call ourselves independent, but what we are is interdependent. Performance is art. Art soothes and nurtures us. It makes us happy." ONCE VV will work hard to add a warmth and hospitality to the livestream by evoking the hominess and cozy hospitality they are known for and will continue to keep the ONCE name tied to diverse and quality programming as they frontier the wild west of an online "virtual venue."
All for ONCE and ONCE for ALL! https://bit.ly/SUPPORTONCE
Venue Information: