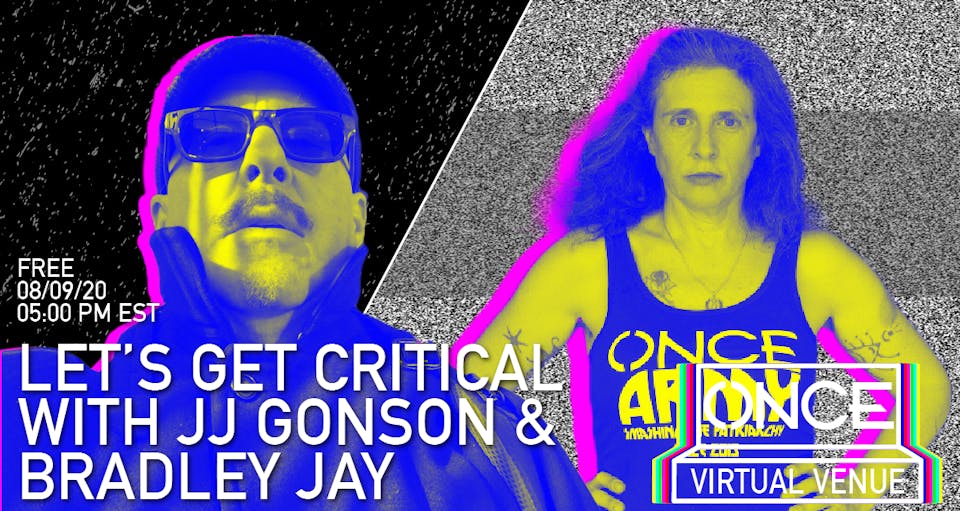 Let's Get Critical with Bradley Jay x ONCE VV
Interviewing the Interviewer with JJ Gonson
In order to access this livestream please RSVP for tickets via Eventbrite. A link to the livestream will then be emailed to you once you have completed the registration. In order to access the live stream click the "View Now" button in the confirmation email and follow the instructions listed on that page.
ABOUT THIS EVENT:
We tune in and turn on to the stories bands love to tell to the folks holding the mics and the cameras, but those people have some equally compelling stories about the makings of those interviews.
Join host, JJ Gonson, as she welcomes a slew of great music writers and photographers to talk about their own experiences and memories of interviewing the stars.
ABOUT BRADLEY JAY:
Bradley Jay gained fame at WBCN, The Rock of Boston, for more than two decades as a rock jock. This included a live broadcast from Moscow, in the early 90s, in one of the first ever sanctioned broadcasts.
As one of his generation's most adroit interviewers, he has conversed with a lexicon of entertainers on the air, at the neo-Woodstock festivals, and on the Grammy Awards Red Carpet, making him a sought-after main stage emcee at festivals and major cultural events.
As a talk host at WBZ-AM he interviewed hundreds of engaging guests. He also shot, edited, and hosted his Jay Talking "man on the street" video series. In addition, Bradley did radio shows at Boston College's WZBC for many years.
As member of the performance trio "Thunder Brothers," he rocked the local clubs, and festivals, including a festival in Holland. And his original music can be heard on Sound Cloud.
As a DJ, Bradley Jay entertained thousands at the famed WBCN River Raves at the Boston's Tweeter Center. He has spun his magic spell at Foxboro Stadium, opening for Marilyn Manson , Coldplay , Green Day , Aerosmith , New Found Glory , Live , and the Dropkick Murphys . He so impressed big beat maestro, Fatboy Slim, that his is the first voice you hear on the latter's seminal cult album, You've Come A Long Way Baby.
ABOUT ONCE VIRTUAL VENUE:
"We call ourselves independent, but what we are is interdependent. Performance is art. Art soothes and nurtures us. It makes us happy." ONCE VV will work hard to add a warmth and hospitality to the livestream by evoking the hominess and cozy hospitality they are known for and will continue to keep the ONCE name tied to diverse and quality programming as they frontier the wild west of an online "virtual venue."
All for ONCE and ONCE for ALL!
Venue Information: