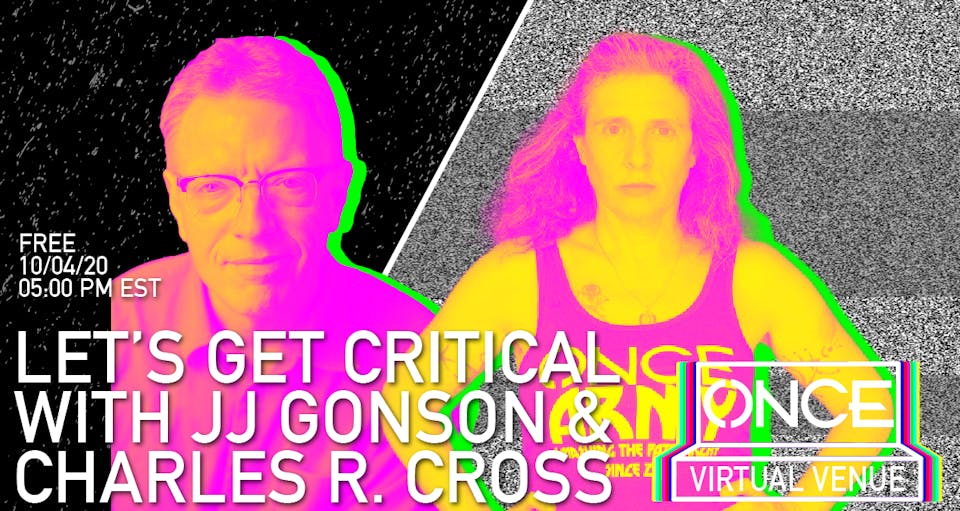 Let's Get Critical with Charles R. Cross x ONCE VV
Interviewing the Interviewer with JJ Gonson
In order to access this livestream please RSVP for tickets via Eventbrite. A link to the livestream will then be emailed to you once you have completed the registration. In order to access the live stream click the "View Now" button in the confirmation email and follow the instructions listed on that page.
ABOUT THIS EVENT:
We tune in and turn on to the stories bands love to tell to the folks holding the mics and the cameras, but those people have some equally compelling stories about the makings of those interviews.
Join host, JJ Gonson, as she welcomes a slew of great music writers and photographers to talk about their own experiences and memories of interviewing the stars.
ABOUT CHARLES R. CROSS:
Charles R. Cross is the author of nine books, including three New York Times' bestsellers. His 2001 biography of Kurt Cobain, Heavier Than Heaven, has been published in 26 languages, and was called "One of the most moving and revealing books ever written about a rock star," by the Los Angeles Times. Cross was Editor of The Rocket, the Seattle music magazine, from 1986 through 2000, which helped launch and break the Grunge movement, and was the first publication to ever do a cover story on Nirvana. He writes for many newspapers and magazines, and lectures on pop culture at colleges. He's presently working on a memoir about parenting and rock 'n' roll, developing a television show on his life in the nineties, and working for social justice and actual democracy.
ABOUT ONCE VIRTUAL VENUE:
"We call ourselves independent, but what we are is interdependent. Performance is art. Art soothes and nurtures us. It makes us happy." ONCE VV will work hard to add a warmth and hospitality to the livestream by evoking the hominess and cozy hospitality they are known for and will continue to keep the ONCE name tied to diverse and quality programming as they frontier the wild west of an online "virtual venue."
All for ONCE and ONCE for ALL!
Venue Information: