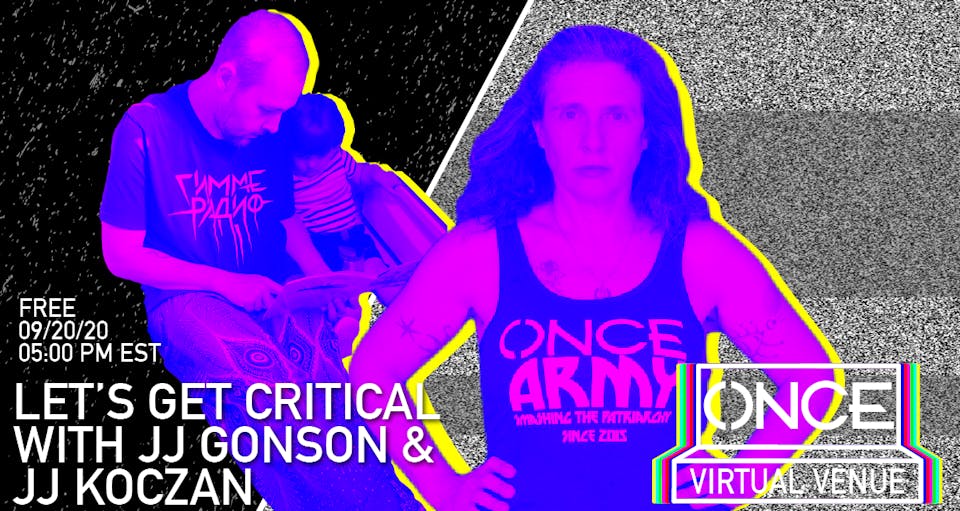 Let's Get Critical with JJ Koczan x ONCE VV
Interviewing the Interviewer with JJ Gonson
In order to access this livestream please RSVP for tickets via Eventbrite. A link to the livestream will then be emailed to you once you have completed the registration. In order to access the live stream click the "View Now" button in the confirmation email and follow the instructions listed on that page.
ABOUT THIS EVENT:
We tune in and turn on to the stories bands love to tell to the folks holding the mics and the cameras, but those people have some equally compelling stories about the makings of those interviews.
Join host, JJ Gonson, as she welcomes a slew of great music writers and photographers to talk about their own experiences and memories of interviewing the stars.
ABOUT JJ KOCZAN:
JJ Koczan is a music journalist of international renown who has worked professionally in the music industry for over 15 years. He began in 2004 as the Managing Editor of The Aquarian Weekly in his home state of New Jersey and graduated to work at the glossy magazine Metal Maniacs in 2007. His experience in print media led him to found the website The Obelisk in 2009 and for over a decade, it has been a vehicle for exploring underground music, culture and experiences, as well as writing critique with an eye toward a multigenre context and a focus on creative progression in and out of various styles.
He has been invited to and covered international festivals from Roadburn in the Netherlands (2009-2019), to Desertfest in the UK (2012-2013) and Høstsabbat in Norway (2016, 2018-2019), as well as US-based events like Psycho Las Vegas (2018), Maryland Doom Fest (2016, 2017-2019), the inaugural Desertfest New York (2019), and many others, conducted well over 300 interviews, and on average, produces 5,000 words of content in a given Monday-through-Friday span. His dedication to this purpose is a singular and defining element of his work.
ABOUT ONCE VIRTUAL VENUE:
"We call ourselves independent, but what we are is interdependent. Performance is art. Art soothes and nurtures us. It makes us happy." ONCE VV will work hard to add a warmth and hospitality to the livestream by evoking the hominess and cozy hospitality they are known for and will continue to keep the ONCE name tied to diverse and quality programming as they frontier the wild west of an online "virtual venue."
All for ONCE and ONCE for ALL!
Venue Information: