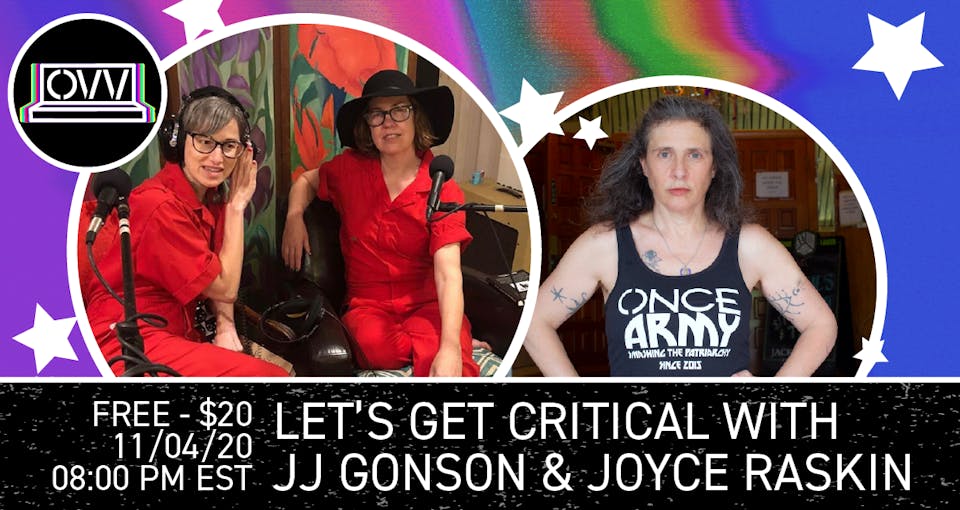 Let's Get Critical with Joyce Raskin x ONCE VV
Interviewing the Interviewer with JJ Gonson
In order to access this livestream please RSVP for tickets via Eventbrite. A link to the livestream will then be emailed to you once you have completed the registration. In order to access the live stream click the "View Now" button in the confirmation email and follow the instructions listed on that page.
ABOUT THIS EVENT:
We tune in and turn on to the stories bands love to tell to the folks holding the mics and the cameras, but those people have some equally compelling stories about the makings of those interviews.
Join host, JJ Gonson, as she welcomes a slew of great music writers and photographers to talk about their own experiences and memories of interviewing the stars.
ABOUT RED JUMPSUIT PODCAST
Staring into the sea, Seana and Joyce toyed with the idea of making a podcast. Why not contribute to the already flooded podcast market? So it began experimentally into the phone. They delved hard into the murky past of music adoration and the joys of indie rock freedom. Thankfully, their badass lady friends also signed up to converse about such topics. We hope you love our rock talk.
website: www.redjumpsuitpodcast.com
ABOUT ONCE VIRTUAL VENUE:
"We call ourselves independent, but what we are is interdependent. Performance is art. Art soothes and nurtures us. It makes us happy." ONCE VV will work hard to add a warmth and hospitality to the livestream by evoking the hominess and cozy hospitality they are known for and will continue to keep the ONCE name tied to diverse and quality programming as they frontier the wild west of an online "virtual venue."
All for ONCE and ONCE for ALL!
Venue Information: