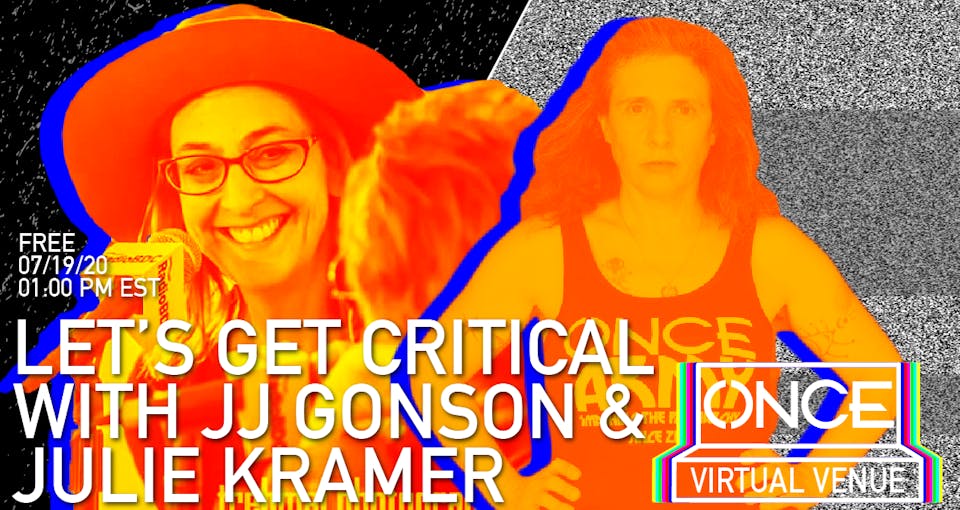 Let's Get Critical with Julie Kramer x ONCE VV
Interviewing the Interviewer with JJ Gonson
In order to access this livestream please RSVP for tickets via Eventbrite. A link to the livestream will then be emailed to you once you have completed the registration. In order to access the live stream click the "View Now" button in the confirmation email and follow the instructions listed on that page.
ABOUT THIS EVENT:
We tune in and turn on to the stories bands love to tell to the folks holding the mics and the cameras, but those people have some equally compelling stories about the makings of those interviews.
Join host, JJ Gonson, as she welcomes a slew of great music writers and photographers to talk about their own experiences and memories of interviewing the stars.
ABOUT JULIE KRAMER:
Julie Kramer has been in radio in New England for over 30 years. The bulk of those years were at WFNX where she was the music director and mid day DJ and host of the infamous "Leftover Lunch". Julie was dubbed "Karma Queen" by her listeners for her intense love of recycling and the   environment.  She has championed many local and national charity events and brings her good karma ethos to the public.   
When asked to recall some favorite moments at WFNX Kramer says, "I loved it all—seriously. The early years were so exciting and creative; we were a family--a bunch of kids pushing the envelope every day and breaking barriers. I loved hanging with Joe Strummer, who was just so nice and funny. I had many fun times with him, like dancing at the VFW in Cambridge just dancing, drinking, and having a ball."  
After WFNX was sold the crew started RadioBDC an Internet indie rock station out of the Boston Globe. She is currently doing mid days and is music director at Indie617.com. Indie617 is a music –focused, streaming digital radio station that is independently owned and operated.
ABOUT ONCE VIRTUAL VENUE:
"We call ourselves independent, but what we are is interdependent. Performance is art. Art soothes and nurtures us. It makes us happy." ONCE VV will work hard to add a warmth and hospitality to the livestream by evoking the hominess and cozy hospitality they are known for and will continue to keep the ONCE name tied to diverse and quality programming as they frontier the wild west of an online "virtual venue."
All for ONCE and ONCE for ALL!
Venue Information: