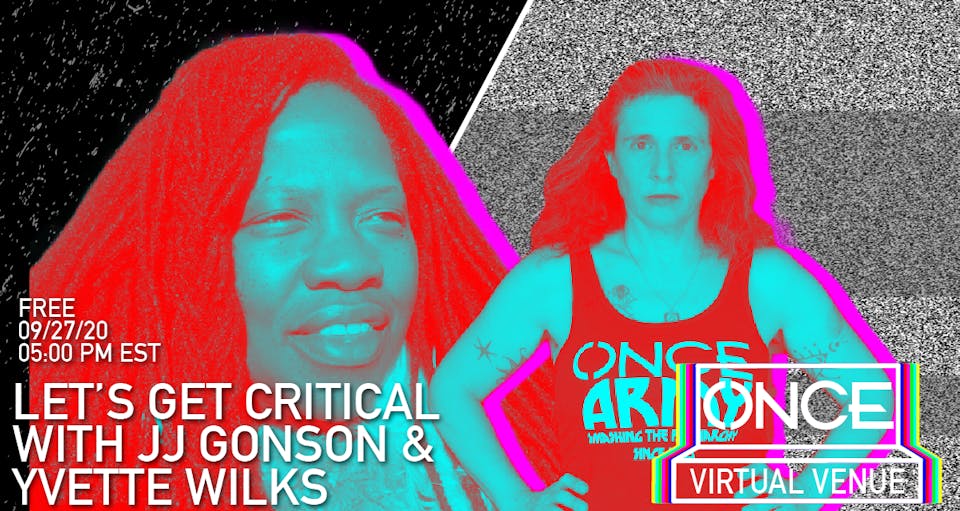 Let's Get Critical with Yvette Wilks x ONCE VV
Interviewing the Interviewer with JJ Gonson
In order to access this livestream please RSVP for tickets via Eventbrite. A link to the livestream will then be emailed to you once you have completed the registration. In order to access the live stream click the "View Now" button in the confirmation email and follow the instructions listed on that page.
ABOUT THIS EVENT:
We tune in and turn on to the stories bands love to tell to the folks holding the mics and the cameras, but those people have some equally compelling stories about the makings of those interviews.
Join host, JJ Gonson, as she welcomes a slew of great music writers and photographers to talk about their own experiences and memories of interviewing the stars.
ABOUT YVETTE WILKS:
Yvette Wilks' passion and business, Conduit Consultants, allows her to help others conceptualize a thought and then bring it to fruition. Her recent collaboration allowed her to build a plan around a local park, a community and a community center. The final product was a summer filled with small crowds enjoying our 6 Foot Cypher. The 6 Foot Cypher was held at Dugger Park in West Medford, Massachusetts and artists from greater Boston performed outdoors while enjoying the interaction of the crowd.
Conduit Consultants will be launching this fall for the 6th Evolution of Hiphop Festival. The festival is a collaboration between the Somerville Arts Council and Wat's Da Wurd Radio which is housed at Somerville Media Center. Yvette's radio show has been on air for a few years and has taken the charge in producing the festival. On October 3rd, 2020, they will host a virtual festival and we are excited about creating an unique experience for our viewers.
She is the mother of 23 year old twins who were raised in the heart of Davis Square and she has been working at Harvard for over twenty years after relocating from Texas. Yvette loves to travel and visit new parts of the world.
Please contact her by email at watsdawurd@gmail.com. If you are from Somerville, she is looking for your videos centered around the world of hiphop.
ABOUT ONCE VIRTUAL VENUE:
"We call ourselves independent, but what we are is interdependent. Performance is art. Art soothes and nurtures us. It makes us happy." ONCE VV will work hard to add a warmth and hospitality to the livestream by evoking the hominess and cozy hospitality they are known for and will continue to keep the ONCE name tied to diverse and quality programming as they frontier the wild west of an online "virtual venue."
All for ONCE and ONCE for ALL!
Venue Information: