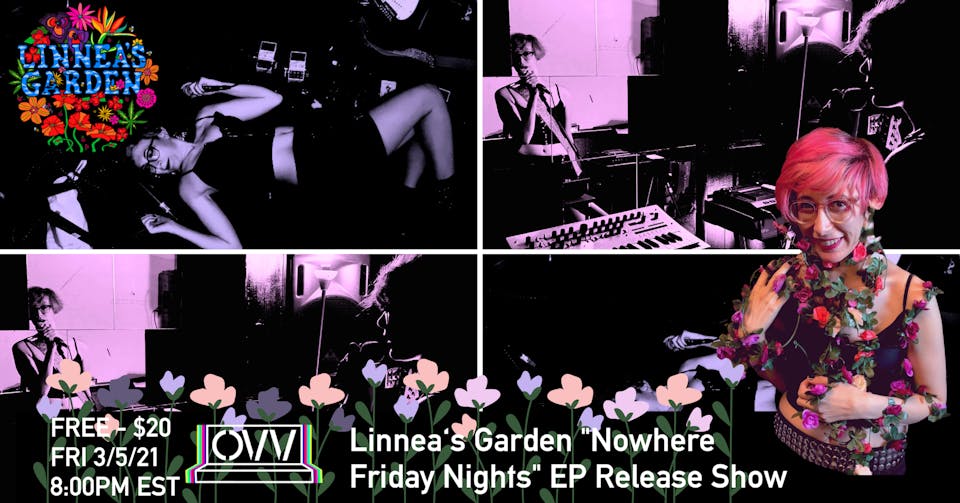 Linnea's Garden "Nowhere Friday Nights" EP Release Show x OVV
Linnea's Garden "Nowhere Friday Nights" EP Release Show
In order to access this livestream please RSVP for tickets via Eventbrite. A link to the livestream will then be emailed to you once you have completed the registration. In order to access the live stream click the "View Now" button in the confirmation email and follow the instructions listed on that page.
Linnea's Garden is proud to present "Nowhere Friday Nights," 13 minutes of power-pop-punk perfection to be released March 5 on Red on Red Records.
Join us in celebrating their new EP with a stacked lineup of musical performances and videos (artists TBA), followed by a live conversation between the band and Justine Covault of Red on Red Records.
About the EP:
Linnea's Garden redefined the new normal as rocking, releasing singles and videos through 2020. Now, they're releasing their debut EP, "Nowhere Friday Nights," on March 5 via Red on Red Records.
Drawing inspiration from the likes of Blondie, The Go-Gos, and The Ronettes, "Nowhere Friday Nights" combines new tracks with material written over the past eight years while singer/songwriter/guitarist Linnea Herzog fronted PowerSlut (2019 Rock & Roll Rumble Finalists and 2020 Boston Music Award Winners for Rock Artist of the Year).
Herzog describes her inspiration for the new EP as follows:
"The title 'Nowhere Friday Nights' comes from a line in the song "Friday Night," which was written this past summer. It's about that feeling of having nowhere to go on Friday night, which we all have had during lockdown. So many Friday nights, I've wanted to be playing or at a show. Hands and I often found ourselves doing the next best thing, dressing up and playing loud. 'The music is our fight' reflects this theme of persistent self-expression."
The new EP was recorded with Linnea's "quarantine pod," Hands O'd and Tom O'Donnell (both of Corner Soul) who traded off on bass and drums. Linnea's Garden's current lineup is Herzog on guitar/lead vocals, Amy Galaviz on bass/backing vocals, and Hands O'd on drums.
Herzog says of this time, "Music has been my salvation, the one thing I can control, it's what has kept me going during these crazy times." Get ready, because this music is going to be astounding.
ABOUT ONCE VIRTUAL VENUE:
"We call ourselves independent, but what we are is interdependent. Performance is art. Art soothes and nurtures us. It makes us happy." ONCE VV will work hard to add a warmth and hospitality to the livestream by evoking the hominess and cozy hospitality they are known for and will continue to keep the ONCE name tied to diverse and quality programming as they frontier the wild west of an online "virtual venue."
All for ONCE and ONCE for ALL!
ONCE's PATREON: www.patreon.com/ONCEVV
ONCE's Venmo: @ONCESomerville
Follow ONCE: @ONCESomerville
#SaveOurStages: https://saveourstages.com
#SaveMAStages interest form at https://savemastages.org
Shopperville: https://oncesomerville.myshopify.com
OVV Youtube: https://www.youtube.com/c/ONCEVirtualVenue
Venue Information: