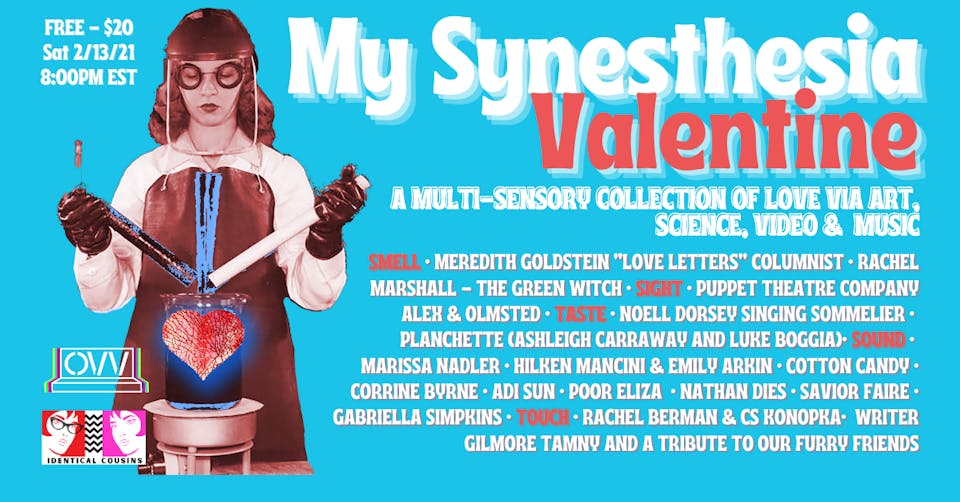 My Synesthesia Valentine x OVV
$0.00 - $20.00
Sales Ended
Identical Cousins presents My Synesthesia Valentine x OVV
In order to access this livestream please RSVP for tickets via Eventbrite. A link to the livestream will then be emailed to you once you have completed the registration. In order to access the live stream click the "View Now" button in the confirmation email and follow the instructions listed on that page.
ABOUT THIS EVENT:
From the minds of Identical Cousins—who brought you your favorite Twin Peaks-inspired events including "Bang Bang Bar" and "Laura Palmer's 49th Birthday" as well as the multimedia collage "TV Dinner"—a new stab at matters of the heart with "My Synesthesia Valentine," a collaborative exploration of love expressed and experienced through all of the senses. What does love smell like? Can you touch it? Why do we feel love the way we do?—whether it be platonic, fleeting crushes, heartbreak, deep lust, or pure adoration for our pets.
With the help of music, art, and science, "My Synaesthesia Valentine" is a handmade lace, construction paper, and doily-lined tribute to the way we experience life's most mysterious emotions. One part informative/two parts expressive, each segment interprets the cross-pollination and collusion of senses associated with human intimacy.
Beamed directly to your brain (via the magic of the internet) you'll experience:
SMELL
Meredith Goldstein of Boston Globe's 'Love Letters' discusses the influence of scents and pheromones on attraction and how digital dating during the pandemic has interfered with this crucial sense.
Rachel Marshall of The Greenwitch will lead a quickie lesson on aromatherapy using household pantry items, as well as an introduction to the art of building a scent to represent love.
TASTE
Singing sommelier Noell Dorsey (opera/rock singer and wine expert) will lead a deep dive into taste as an aphrodisiac, or at least a companion of love, from sweet and sour to bitter, salty, and umami!
Fecund Blessings a short by Planchette (visionary filmmaker Ashleigh Carraway), examines a couple in the throes of young lust turned into literal cupcakes with an extra helping of gooey eye-candy.
SOUND
A multi-genre mixtape of the perfect song covers for your crush, your first love, your ex, your partner—or maybe just you—provided by….Marissa Nadler • Hilken Mancini & Emily Arkin • Cotton Candy • Corrine Byrne • Adi Sun • The Christman Collective • Poor Eliza •Nathan Dies • Savior Faire • Gabriella Simpkins.
SIGHT
Two shorts—to pull at your heartstrings—from Alex and Olmsted, an internationally acclaimed puppet theater company based in Takoma Park, Maryland. They present a beautiful marriage of senses through their works Shine on, Harvest Moon" and "Kindred Spirits".
TOUCH
Writer, musician, and poet Gilmore Tamny talks about the nature of love and pays tribute to the furry friends who have stolen our hearts during pandemic.
Planchette returns with Hidden Gems, illuminating touch with petite vignettes throughout the event.
And last but not least, creative music and video technologist CS Konopka teams up with neuroscientist Rachel Berman to explore where emotions live in the brain.
Alex and Olmsted
Meredith Goldstein
https://loveletters.boston.com/
The Green Witch
https://www.marissanadler.com/
Hilken Mancini
https://en.wikipedia.org/wiki/Hilken_Mancini
Corrine Byrne
Adi Sun
Nathan Dies
http://linktr.ee/nathandies.wav
Savoir Faire
Poor Eliza
https://www.instagram.com/pooreliza/
Gabriella Simpkins
linktr.ee/gabriellasimpkinsmusic
Planchette (Ashleigh Carraway & Luke Boggia)
https://www.facebook.com/PlanchetteSaysYes/
Rachel Berman & CS Konopka
WHILE SUPPLIES LAST
Free DIY Valentine kits for ticket holders while supplies last. (50 available) At A Curated World from 1-6pm Wednesdays thru Sundays.
ABOUT ONCE VIRTUAL VENUE:
"We call ourselves independent, but what we are is interdependent. Performance is art. Art soothes and nurtures us. It makes us happy." ONCE VV will work hard to add a warmth and hospitality to the livestream by evoking the hominess and cozy hospitality they are known for and will continue to keep the ONCE name tied to diverse and quality programming as they frontier the wild west of an online "virtual venue."
All for ONCE and ONCE for ALL!
ONCE's PATREON: www.patreon.com/ONCEVV
ONCE's Venmo: @ONCESomerville
Follow ONCE: @ONCESomerville
#SaveOurStages: https://saveourstages.com
#SaveMAStages interest form at https://savemastages.org
Shopperville: https://oncesomerville.myshopify.com
OVV Youtube: https://www.youtube.com/c/ONCEVirtualVenue
Venue Information: