O.N.C.E. in Valhalla 10 YEAR ANNIVERSARY
O.N.C.E. in Valhalla 10th Anniversary
Greetings warriors and welcome to the 10th Anniversary of ONCE in Valhalla- a performance based, 10 course, all local feast from Cuisine en Locale
Your ticket includes a decadent ten course meal, based on what the people from the frozen north would have dreamed of eating, if they died nobly in battle and were lifted by Valkyrie to Odin's might hall of Valhalla in Asgard in the land of the Aesir Gods.
After greeting the Norns at the base of the Ygdrasil Tree, you will start with an open oyster bar in Hel (the realm of the normal dead) before moving on to the dining hall where you will sit with Odin, Thor, Loki and their friends and family while you feast on roast lamb, succulent braised turkey, cheese oat porridge and more.
Enjoy a fully stocked bar, including gruit brewed especially for us by Cambridge Brewing Company and mead on tap from Green River Ambrosia. Vendors from Holy Crow will be there, too, in case you feel you are not fancy enough for the company of gods.
Early bird ticket is available through Dec 31st.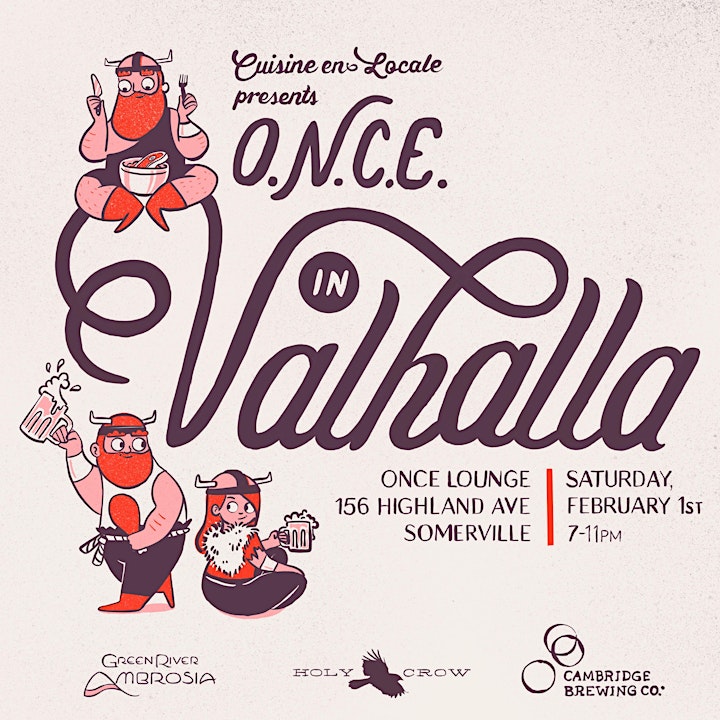 Venue Information:
ONCE Ballroom
156 Highland Ave
Somerville, MA, 02143