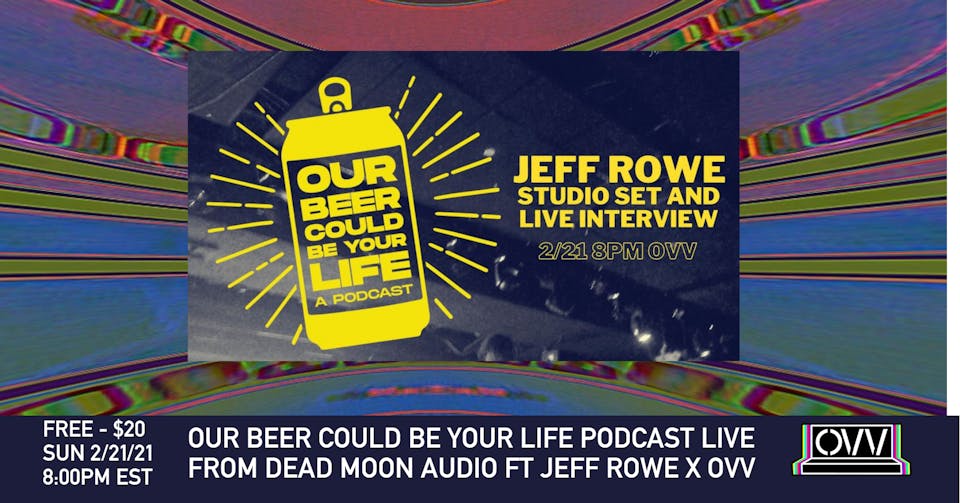 OUR BEER COULD BE YOUR LIFE PODCAST FT JEFF ROWE X OVV
$0.00 - $20.00
Sales Ended
OUR BEER COULD BE YOUR LIFE PODCAST LIVE FROM DEAD MOON AUDIO FT JEFF ROWE X OVV
In order to access this livestream please RSVP for tickets via Eventbrite. A link to the livestream will then be emailed to you once you have completed the registration. In order to access the live stream click the "View Now" button in the confirmation email and follow the instructions listed on that page.
"Our Beer Could Be Your Life" is an interview podcast exploring the intersection of beer and art. Matt and Joe, two beer industry "professionals", sit down with artists and musicians to geek out over beer, music, and the changing world of live music. Sponsored by Jack's Abby Craft Lagers & Springdale Beer Company, in that we sometimes make these shows instead of doing our real jobs.
Our next episode is hosted by our friends at the ONCE Virtual Venue - a "live" studio session with a performance by Jeff Rowe from Tied to a Bear! Jeff is a brewing veteran who's worked in one of the biggest craft breweries in New England in addition to opening his own brewery. When he's not fronting Tied to a Bear he also runs a record label and ferments hot sauces.... a true punk rock renaissance man. Join us for a few pints and Jeff's acoustic set as we chat about the future of live music and good beer.
ABOUT ONCE VIRTUAL VENUE:
"We call ourselves independent, but what we are is interdependent. Performance is art. Art soothes and nurtures us. It makes us happy." ONCE VV will work hard to add a warmth and hospitality to the livestream by evoking the hominess and cozy hospitality they are known for and will continue to keep the ONCE name tied to diverse and quality programming as they frontier the wild west of an online "virtual venue."
All for ONCE and ONCE for ALL!
ONCE's PATREON: www.patreon.com/ONCEVV
ONCE's Venmo: @ONCESomerville
Follow ONCE: @ONCESomerville
#SaveOurStages: https://saveourstages.com
#SaveMAStages interest form at https://savemastages.org
Shopperville: https://oncesomerville.myshopify.com
OVV Youtube: https://www.youtube.com/c/ONCEVirtualVenue
Venue Information: