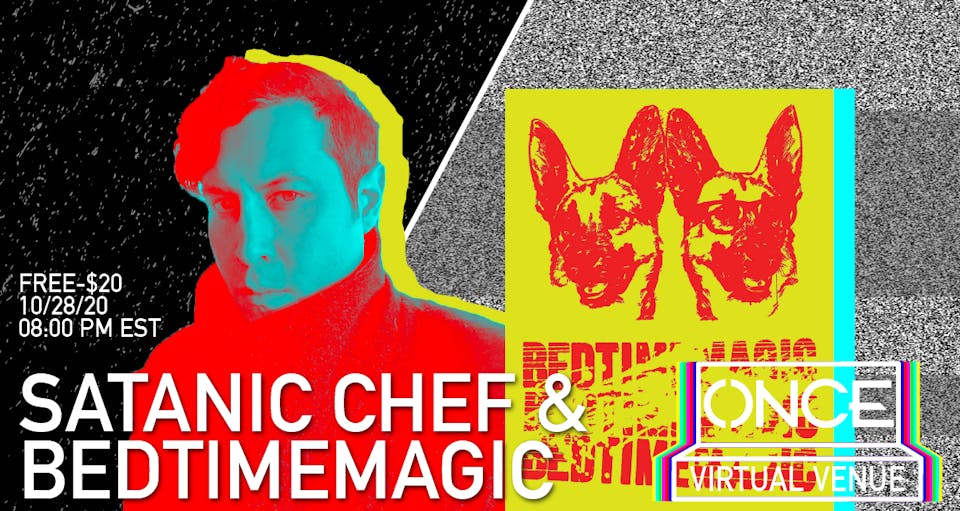 Satanic Chef & Bedtimemagic x OVV
$0.00 - $20.00
Sales Ended
Satanic Chef & Bedtimemagic x OVV
In order to access this livestream please RSVP for tickets via Eventbrite. A link to the livestream will then be emailed to you once you have completed the registration. In order to access the live stream click the "View Now" button in the confirmation email and follow the instructions listed on that page.
If you choose to donate or pay for a ticket, please know that half of the ticket price will go directly to the artists!
ABOUT THIS EVENT
Knife skills and rock and roll!
SATANIC CHEF
Adam Ostrofsky aka The Satanic Chef Grew up in Needham Ma. Since an early age, he has been interested in cooking. This led him to an internship at Blue Ginger in 2003 which he says "Changed my life." Followed by a short stint at Sel De La Terre on state street he moved to San Francisco where he furthered his ambitions by attending the California Culinary Academy in 2004. Before moving back to Boston he put on an event in LA on 6/6/06 at the Henry Fonda Theatre which was one of the largest satanic gatherings in modern history. Adam says, "this event gave me the sense of urgency that I needed to fulfill my career." Upon his return to the bay state, Adam worked at several restaurants such as MARE, Sel De LA Terre/L'Espalier Back Bay, JM Curley's, Ripasso, Cafe Beatrice, Revival and most notably Tavern Road until its closing in 2017. At TR he was reunited with Louis Dibbicari whom he had worked with since 2003. Shortly after Adam decided to focus his career back to his roots in satanism, hosting events shuck as the Devils Dinners at The Satanic Temple in Salem and Pizzagate pop up's poking fun at satanic conspiracy theory's, writing a cookbook and filming several episodes for a cooking show. He lives in the Boston area where he has been extremely involved in The Satanic Temple since its beginning in 2013. Adam can be found on instagram @TheSatanicChef.
BEDTIMEMAGIC
Two-piece bottom heavy Boston circa-hardcore punk.
Instagram and Twitter: @bedtimemagic69
Bandcamp: http://bedtimeboston.bandcamp.com/
ABOUT ONCE VIRTUAL VENUE
"We call ourselves independent, but what we are is interdependent. Performance is art. Art soothes and nurtures us. It makes us happy." ONCE VV will work hard to add a warmth and hospitality to the livestream by evoking the hominess and cozy hospitality they are known for and will continue to keep the ONCE name tied to diverse and quality programming as they frontier the wild west of an online "virtual venue."
All for ONCE and ONCE for ALL! https://bit.ly/SUPPORTONCE
Venue Information: