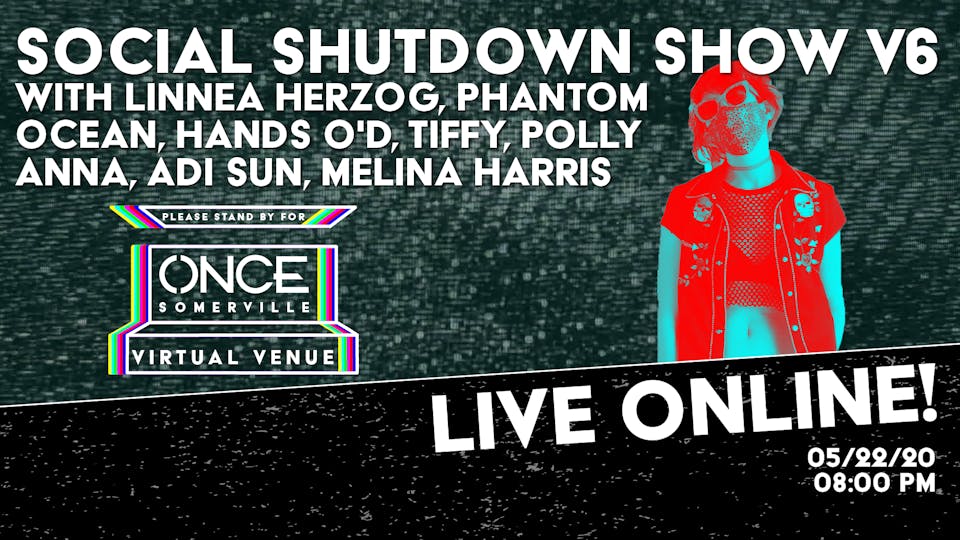 Social Shutdown Show v6 x ONCE VV
Social Shutdown Show v6 x ONCE VV
Linnea Herzog- The mad scientist behind Linnea's Garden and PowerSlut. https://linneasgarden.bandcamp.com/, http://powerslut.bandcamp.com/
Phantom Ocean- Spooky loud indie rock duo. https://www.facebook.com/pg/PhantomOceanBand
Hands O'd- Guitarist/vocalist for Hands 3, bassist for Corner Soul, glam rocker extraordinaire. https://hands3.bandcamp.com/, https://corner-soul.bandcamp.com/
TIFFY- Fuzz pop/soft punk by multi-instrumentalist and songwriter Tiffany Sammy. https://tiffy.bandcamp.com/
Polly Anna- Coming soon!
Adi Sun- New project from Adi of Phenomenal Sun. https://www.phenomenalsun.com/
Melina Harris of Personal Trainer- Alt garage pop with femme punk legs. http://personaltrainerband.com/
In order to access this livestream please RSVP for tickets via Eventbrite. A link to the livestream will then be emailed to you once you have completed the registration, 1 day before and 30 minutes before the event begins just for good measure!
About ONCE Virtual Venue:
In May of 2020 ONCE Somerville, an independent venue in the Boston Metro area, decided to launch a "virtual venue". The venue was started in response to the COVID19 crisis and the massive amount of cancellations that occurred in the wake of stay at home order. ONCE VV is a place for audiences to interact and enjoy performances that range to suit all sorts of palates. Music, tutorials, fitness, games and more.
"We call ourselves independent, but what we are is interdependent. Performance is art. Art soothes and nurtures us. It makes us happy." ONCE VV will work hard to add a warmth and hospitality to the livestream by evoking the hominess and cozy hospitality they are known for and will continue to keep the ONCE name tied to diverse and quality programming as they frontier the wild west of an online "virtual venue".
All for ONCE and ONCE for ALL!
DONATE TO ONCE GOFUNDME CAMPAIGN: https://bit.ly/2y5BeJP
Venue Information: