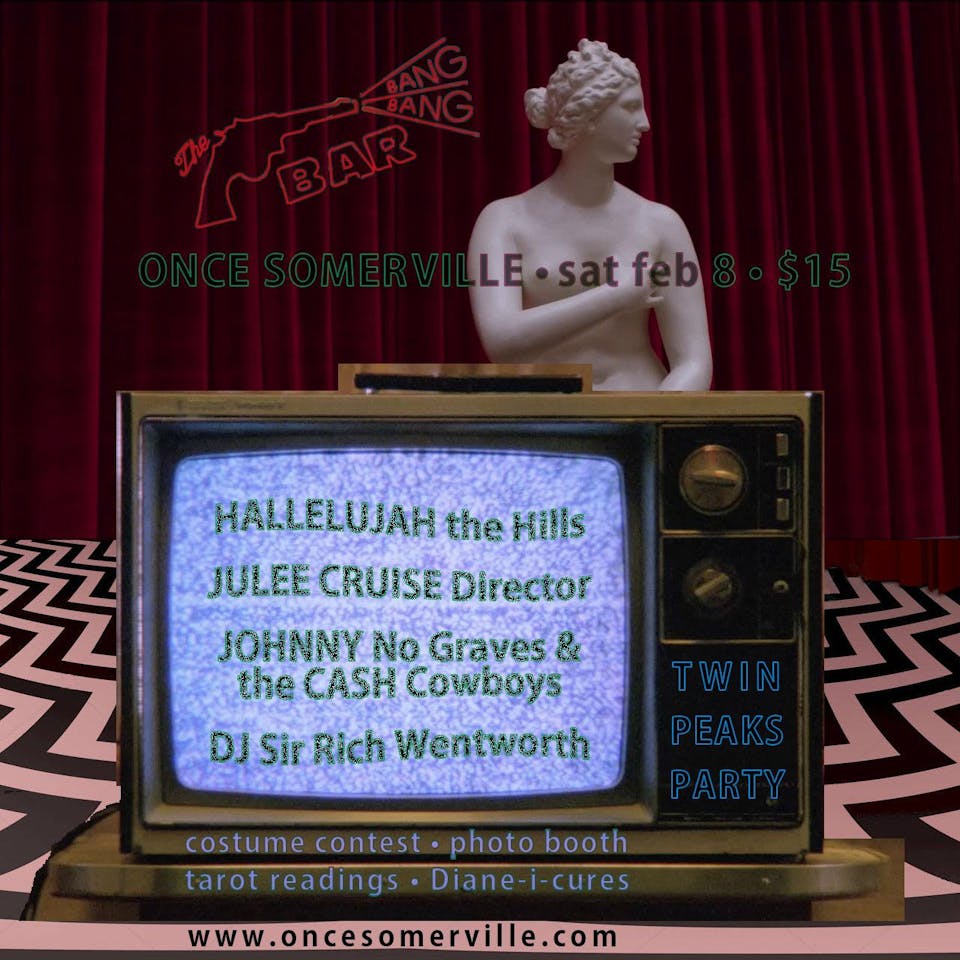 THE BANG BANG BAR: Twin Peaks Party
THE BANG BANG BAR: Twin Peaks Party
THE BANG BANG BAR: Twin Peaks Party at ONCE Ballroom and Lounge
It is happening again.
Under the light of the full snow moon, on Saturday February 8th, 2020, three bands, three artists, a DJ, a projectionist, a witch-punk collective, a satanic chef, and a whole bunch of Twin Peaks nerds shall gather at ONCE Somerville to witness an apparition of the Roadhouse (aka "The Bang Bang Bar") from the fictional town of Twin Peaks, as conjured in three seasons and a movie by David Lynch and Mark Frost.
Julee Cruise Director, the all-riot-grrrl Twin Peaks soundtrack tribute band, returns--this time with headliners/Boston hometown heroes Hallelujah the Hills ("the kind of punk rock you'd expect on stage at the roadhouse from Twin Peaks" per The Boston Herald), Johnny No Graves and the Cash Cowboys (a stunningly great tribute to Johnny Cash), and DJ Sir Rich Wentworth.
Earlier in the Lounge, The Satanic Chef will serve R&R Diner-inspired treats including cherry pie (one of the show's obsessions, along with black coffee and Douglas Fir trees). The Twin Peaks fun continues with a costume contest and photo booth, cool crafts and tarot card readings by the witch-punk Holy Crow,, signature cocktails, "Diane-i-cures" inspired by the secretary/muse's chinoiserie accent nails, peeks behind Twin Peaks' red curtain, a dazzling array of decorations by artists Alex Feinstein, Athena Moore, and Pennie Taylor, and visual projections by Eric Krauter.
Hallelujah the Hills' music video for "Confessions of an Ex-Ghost" is a shot-for-shot remake of the famous Twin Peaks "Tibetan Method" of dream, intuition, and deduction (fueled by plenty of doughnuts and coffee): https://www.youtube.com/watch?v=QXgTDyatfvE
HtH is "criminally underappreciated" (Spin) with "fist pumping anthems," (Pitchfork) and a "cult following" per Stereogum (much like the TV show in question).
Julee Cruise Director is a supergroup with opera-trained Major Stars singer Noell Dorsey as Julee Cruise, avant-jazz Berklee duo Allison Burik and Magdalena Abrego on sax and guitar, Emily Arkin of Shepherdess on mellotron, Slamber Slusser as Rebekah Del Rio, and The Shaggs' reunion drummer Laura Cromwell. A touch of their lightning-in-a-bottle was captured by none other than HtH lead singer Ryan Walsh (who was rumored to have snuck into last year's sold out show in a "log" costume inspired by the show's most famous quirky character, the Log Lady). See them play the iconic "Dance of the Dream Man": https://twitter.com/jahhills/status/1091710424918183939
Johnny No Graves and the Cash Cowboys here sing "Big River" by Johnny Cash and all one can really say is "Ring of FIRE, WALK WITH ME": https://www.youtube.com/watch?v=GpU9jytkd0M
Adam Dodge, aka The Satanic Chef's cooking centers around alchemy and "the idea that a chef or bartender or waiter can take water and turn it into gold," turning the ordinary into the extraordinary. https://www.boston.com/food/restaurants/2018/10/22/satanic-chef-devils-dinner-party-salem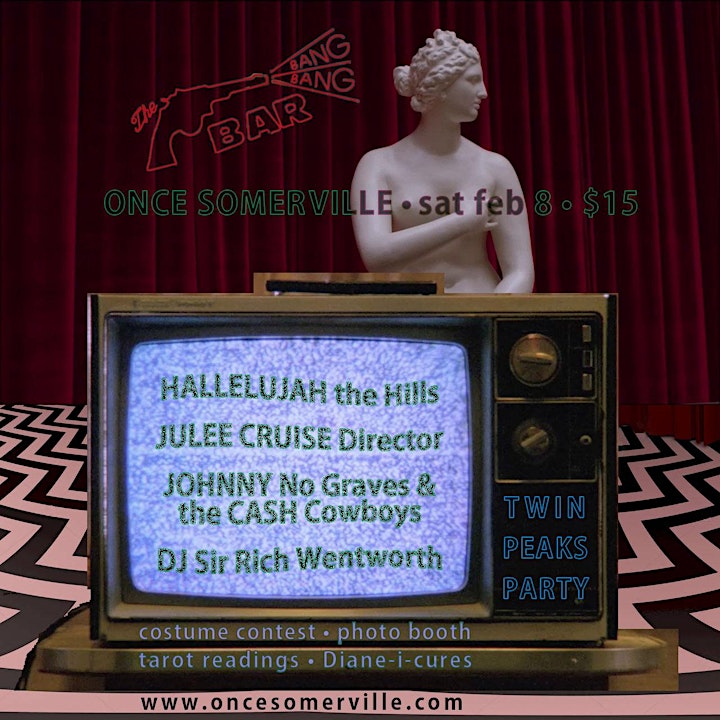 Venue Information:
ONCE Ballroom
156 Highland Ave
Somerville, MA, 02143