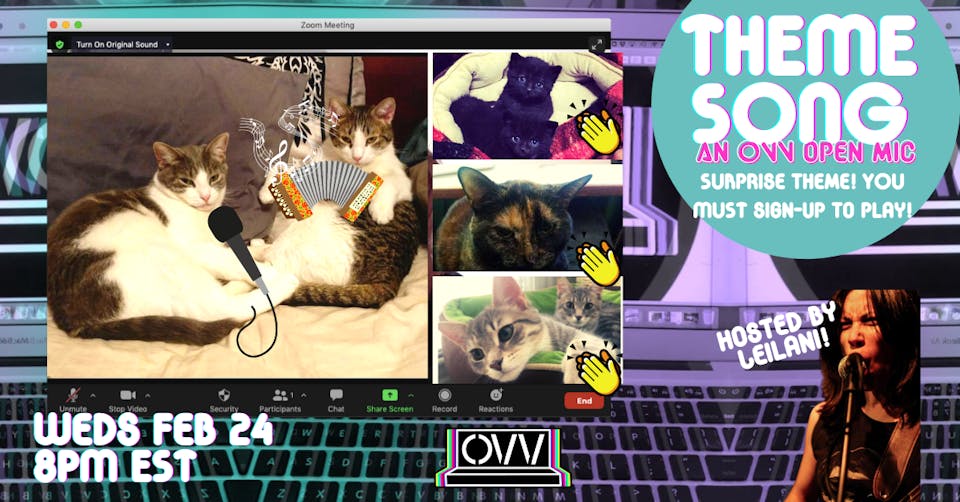 Theme Song: OPEN MIC x OVV
$0.00 - $20.00
Sales Ended
It's a brand new open mic with rotating theme! Limited to 12 participants and hosted by Leilani Roser of Hammer & Snake!
In order to access this livestream please RSVP for tickets via Eventbrite. A link to the livestream will then be emailed to you once you have completed the registration. In order to access the live stream click the "View Now" button in the confirmation email and follow the instructions listed on that page.
ABOUT THIS EVENT:
Theme Song is a brand new virtual open mic! Every month we choose a new theme and each participant will perform 1 song within that theme. The theme is a surprise until 7 days before the event when it will get emailed to anyone who has pre-registered. This event will be hosted by Leilani Roser of Hammer & Snake! https://www.facebook.com/hammerandsnake
ONLY 12 SPOTS FOR PERFORMERS!
REGISTER HERE: http://bit.ly/THEMESONGOVV
EVENT LOGISTICS
- 12 spots available registration is here:
- The event is 90 minutes long
- Each open mic has a theme
- The theme will be emailed to any registered performers one week before the event.
- Each participant will get 5 minutes to perform 1 song. They must choose a song that complements the theme.
-They will explain the connection during their set.
Thinking about performing? Here's some best practices guidance for zoom performances! https://docs.google.com/document/d/10JwnNwZNptU2AimoZOAlZwUQ9YFTbNVklK42HClnqOk/edit?usp=sharing
ABOUT ONCE VIRTUAL VENUE:
"We call ourselves independent, but what we are is interdependent. Performance is art. Art soothes and nurtures us. It makes us happy." ONCE VV will work hard to add a warmth and hospitality to the livestream by evoking the hominess and cozy hospitality they are known for and will continue to keep the ONCE name tied to diverse and quality programming as they frontier the wild west of an online "virtual venue."
All for ONCE and ONCE for ALL!
ONCE Patreon: https://www.patreon.com/ONCEVV
Follow ONCE: @ONCESomerville
https://www.instagram.com/oncesomerville/
https://www.facebook.com/ONCEsomerville
https://twitter.com/oncesomerville
PayPal: hello@oncesomerville.com
Venmo: @ONCESomerville
Venue Information: