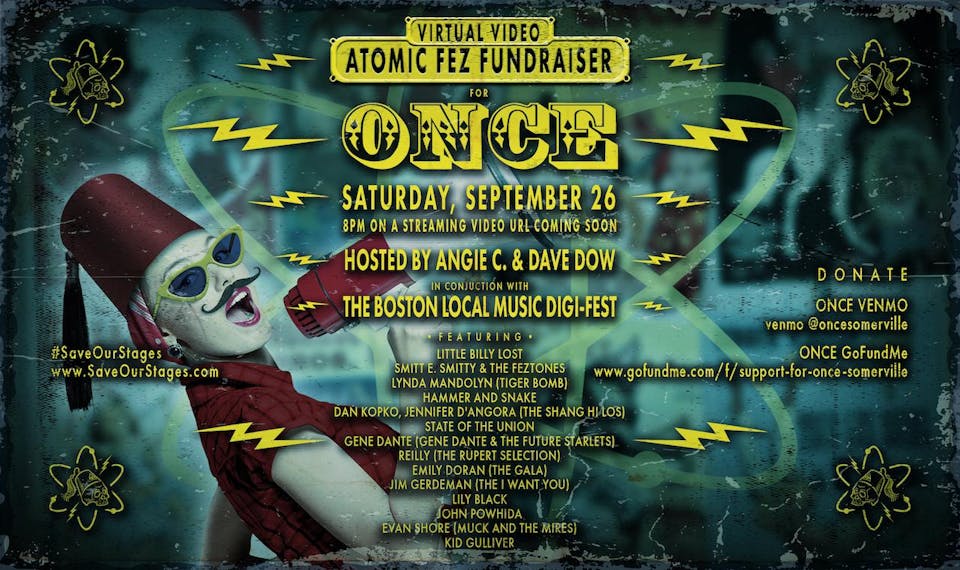 Virtual Video Atomic Fez Fundraiser for Once in Somerville
A virtual video performance by fourteen of New England's best artists and bands.
In order to access this livestream please RSVP for tickets via Eventbrite. A link to the livestream will then be emailed to you once you have completed the registration. In order to access the live stream click the "View Now" button in the confirmation email and follow the instructions listed on that page.
ABOUT THIS EVENT:
Hosted by Angie C. (100.3 WHEB) and Dave Dow (The Worst Talk Show, podcast.)
In conjunction with The Boston Local Music Digital-Fest (Dave Crespo.)
( http://bostonlocalmusicfestival.com )
8PM - Saturday, September 26.
Make your donations to Once in Somerville by going to any of these links.
www.gofundme.com/f/support-for-once-somerville
Venmo: @oncesomerville
#SaveOurStages
FEATURING:
Little Billy Lost
Smitt E. Smitty & The Feztones
Lynda Mandolyn (Tiger Bomb)
Hammer and Snake
Dan Kopko, Jennifer D'Angora (The Shang Hi Los)
State of The Union
Gene Dante (Gene Dante & The Future Starlets)
Rupert (The Rupert Selection)
Emily Doran (The Gala)
Jim Gerdeman (The I Want You)
John Powhida
Evan Shore (Muck and the Mires)
Kid Gulliver
Lily Black
Tune in, donate, and support a truly magnificent venue, Once in Somerville.
ABOUT ONCE VIRTUAL VENUE:
"We call ourselves independent, but what we are is interdependent. Performance is art. Art soothes and nurtures us. It makes us happy." ONCE VV will work hard to add a warmth and hospitality to the livestream by evoking the hominess and cozy hospitality they are known for and will continue to keep the ONCE name tied to diverse and quality programming as they frontier the wild west of an online "virtual venue." All for ONCE and ONCE for ALL! https://bit.ly/SUPPORTONCE
Venue Information: