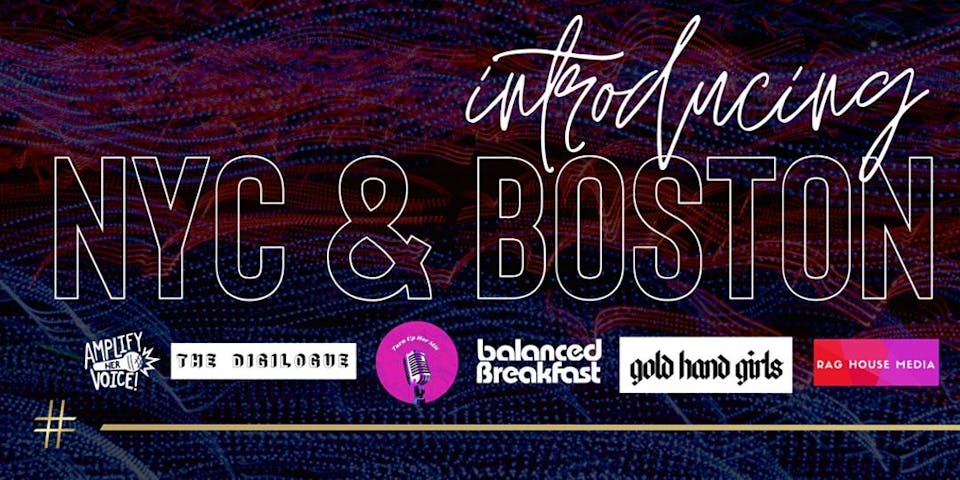 WCM On Tour: Boston/NYC Showcase ft Liz Bills, Natalia Malone+
$0.00
Sales Ended
On #WomxnCrush Music
WCM On Tour: Boston/NYC Showcase ft Liz Bills, Natalia Malone+
WCM On Tour: Boston/NYC Showcase ft Liz Bills, Natalia Malone+
Join us as #WomxnCrush Music Virtual Tour lands in NYC & BOSTON! We are excited to launch our nationwide virtual tour to support and connect local music communities in 15 cities across 10 tour stops. We are partnering with local venues and sponsors at each tour stop, donating 100% proceeds to our venue in the spotlight.
Keep up with #WomxnCrush Music On Tour!
www.womxncrushmusic.com/wcm-on-tour
Join these fantastic artists as they showcase their talents and all ticket proceeds will go to our venue for this area listed below! Support local talent and check out local music from the comfort of your couch!
Venue Spotlight: ONCE Somerville
ONCE Somerville is an independent, woman owned & operated, small venue in Somerville, MA. They are proud to host fantastical events, from weddings to rock shows. They are a safe space, welcoming to all. They are determined to open again when this is over, but we can't do it alone and are streaming shows on their Virtual Venue/YouTube channel.
Artist Spotlight:
Liz Bills, known for her entrancing high energy performances and emotionally charged power vocals, passionate and honest in her songwriting and stage presence; Liz is unapologetically brave yet incredibly vulnerable and real. Taking you on a wild ride that is intoxicatingly sweet and dangerously ferocious.
ESS SEE is Brooklyn-based singer-songwriter Sarah Cobb. Cobb began making electro-pop demos in 2009 in her bedroom at night—honing in on uniquely addictive and seductive melodies often featuring themes of identity, intimacy, and femininity. Embracing lyrical influences St. Vincent, Emily Haines, Carole King, Janelle Monae and Lana Del Rey–ESS SEE delivers a heightened sense of vulnerability and intimacy in her songwriting. Her rich, often theatrical, live performances engage audiences with eye-popping costumes, humor, and an electric presence. Her EP, "Ordinary Woman" was released in 2017 followed by her debut album "Waiting For The Sky To Fall," in 2019. In 2020 ESS SEE released her first self produced single, "Overdrive."
Natalia Malone Hernández is a Soul/R&B singer, songwriter and visual artist born and raised in New York City. Growing up in the early 90s, Natalia's earliest exposure to music included falling asleep in her mother's keyboard case to the sounds of rehearsal at Pregones theatre in the Bronx and dancing at block parties in the LES. There was an eclectic mix, and at any point in time, there could be Herbie Hancock playing at the speakers at home, Fugees in the walkman and Hector Lavoe blasting on the street.
From 2011 - 2017 Natalia lived in Barcelona, where she wrote and composed her debut self-titled album of 10 original songs spanning genres from R&B to reggae. In 2017 she returned to NYC and In 2020, she released her latest single, Calor y Cariño, a queer reggaetón song.
Stormstress strikes with electrifying riffs, thunderous grooves, and catchy choruses in this vicious all-female power trio.
This event will be hosted on Zoom. A link will be emailed to all ticket holders on the day of the event.
If you are unable to make a donation at this time, but would still like to attend, please email wcm.programming@gmail.com
*Suggested Donation: $10
Venue Information: