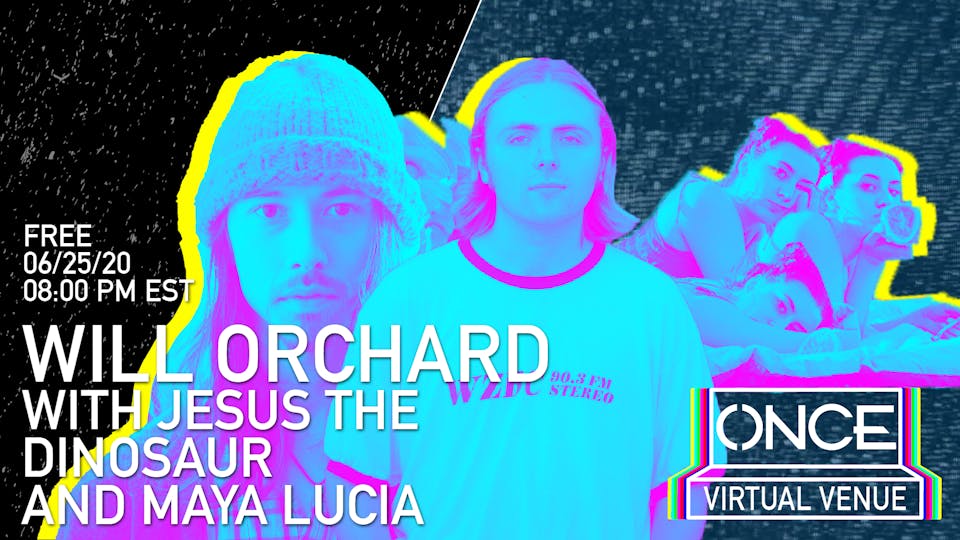 Will Orchard, Jesus the Dinosaur, Maya Lucia x ONCE VV
Jesus the Dinosaur, maya lucia
Will Orchard,Jesus the Dinosaur, Maya Lucia x ONCE VV
In order to access this livestream please RSVP for tickets via Eventbrite. A link to the livestream will then be emailed to you once you have completed the registration. In order to access the live stream click the "view now" button in the confirmation email and follow the instructions listed on that page.
Will Orchard is a songwriter bred in New England. At age 16, he took on an endless internal journey rooted in mindfulness and catharsis. As he churned out 150+ songs each year, creativity became less possessive. As more songs would pass through him, he saw them not as his own, but small morsels of magic filtered through him. By the time Orchard began to tour around the US at age 19 under the moniker Littleboybigheadonbike, he had self released literally one hundred collections of songs on bandcamp. Mostly self produced, these releases were often experimental, and favored collage-like storytelling. Following a long spree of DIY touring in 2017-2018, Orchard took a few months of reflection to rethink his methods of creating. Renaming the project as simply Will Orchard, he emerges with a concise, vulnerable record titled Old Friends on the Mountain. Having found a new sense of truth in Americana sensibilities, he self recorded 8 songs in various living spaces around New England, often decorating the arrangements with sparkly but subdued electronics. Proceeding to work with engineer Jeff Prystowsky (The Low Anthem), the record was mixed in 2 days in Providence, RI. Old Friends on the Mountain is entwined with longing: for lost imagination, friends long gone, and memories slipping away. Each listen reveals more depth on a sonic and emotional level. The record pays tribute to the quiet, unsung moments we have with ourselves - moments that help us embrace the people we truly are. https://willorchard.bandcamp.com/
With warm and warbly acoustic guitar and waves of bittersweet harmonies, Jesus The Dinosaur's gentle and confessional performances speak to the soft spoken, embracing life's gifts and griefs like an old friend. https://jesusthedinosaur.bandcamp.com/
originally budding from the suburbs of Minneapolis, maya lucia grew up nurtured by the minneapolis music scene. attributing her passion for music to The Current radio station, she was driven by the influences she grew up listening to. lucia began her interest in song writing when she was 8 years old and began seriously honing in on her craft once she entered high school. 
 lucia captures the raw emotions of the world around her through her music, artfully turning her adventurous, nostalgic, and romantic thoughts into poetry. describing her music as "genre-fluid," lucia attributes much of her influences to the places she's lived. she currently splits her time between New York City and Boston, while continuing her growth in Los Angeles from extended time spent in the city. while her rotation of bandmates fluctuates based on location, she is most frequently joined by her angel boys samuel stroup (drums), james duncan (bass), and myk bondarenko (lead guitar). https://mayaxlucia.bandcamp.com/
About ONCE Virtual Venue:
"We call ourselves independent, but what we are is interdependent. Performance is art. Art soothes and nurtures us. It makes us happy." ONCE VV will work hard to add a warmth and hospitality to the livestream by evoking the hominess and cozy hospitality they are known for and will continue to keep the ONCE name tied to diverse and quality programming as they frontier the wild west of an online "virtual venue".
All for ONCE and ONCE for ALL!
Venue Information: